Adams Morgan Head Shop: Who Has the Best Weed in 2021?
The DC neighborhood of Adams Morgan is a vibrant, fun neighborhood with dancing,  live music, trendy boutiques, and all kinds of amazing cuisine. The best Adams Morgan head shop? Yeah, it's got that too.
You'll want to know where to find weed in Adams Morgan DC. We're here to give you the local, inside tip.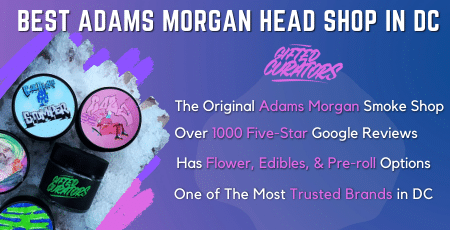 Gifted Curator is the place to go when you're buying weed in Adams Morgan. They're the only recreational dispensary in DC with more than 1,000 five-star reviews and counting. This Adams Morgan marijuana shop is trusted by the community for the highest quality and widest selection of cannabis products.
‌
Before you buy, you must learn the difference between medical and recreational cannabis in Adams Morgan DC. There are new laws, known as the I-71 gifting laws, which make it straightforward and easy to legally obtain marijuana. Knowing the process will help you avoid legal issues when looking for cannabis in Adams Morgan DC.
Where to Find the Best Weed in Adams Morgan DC
The neighborhood of Adams Morgan is bounded to the south by Florida Avenue, to the east by 16th Street, to the north by Harvard Street, and to the west by Creek Park. To the southwest, it stops at Connecticut Avenue.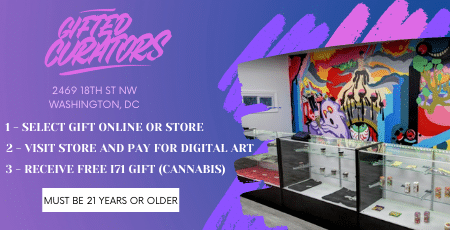 Gifted Curators is located on 18th Street, the main thoroughfare running through the heart of Adams Morgan. That makes it easy for anyone to stop in right when they arrive for their time hanging out in this cool neighborhood.
Gifted Curators is located at 2469 18th St NW Washington, DC. It's surprisingly easy to get cannabis in 18th Street Adams Morgan DC!
Best Places to Pick up Marijuana in Adams Morgan
‌If you don't live in the Adams Morgan area and you want to get cannabis, you still probably aren't sure about where to go. But the people who do know head to Gifted Curators for the new premium cannabis strains every month.
This shop is by far the most trusted in the community, one of the first, and most established brands in Adams Morgan. The popular music venues, vintage shops, and hip coffee houses grew up around Gifted Curators, so you can expect the same vibe in this Adams Morgan head shop.
Procuring your cannabis has never been simpler than with Gifted Curators, too. You can order online — maybe while you're waiting in line for brunch or if your friend is lost in the vintage racks. Then, you can pick up the weed the same day. 
Or, if you prefer to browse in person before you make your decision, you can walk in to purchase a gift and pick up your weed.
Whoa — maybe you don't know what gifting means. Keep reading so you can learn how to handle the transaction legally and appropriately.
Is Adams Morgan Recreational Weed or Medical?
When you're in the Adams Morgan head shop area, the biggest confusion is between recreational and medical weed. If you aren't sure what's what, you're definitely not alone. Let's break it down.
For medical marijuana, you need to apply for a card. In order for the government to approve your card application, you'll need to get a doctor's approval and complete other requirements. This includes being a DC resident and also — of course — paying the fee. 
While you can complete this process online after being seen in person by a doctor, it can take time to complete. It's a headache. But luckily weed in Adams Morgan DC is still an option.
Recreational weed is not legal yet, but the Initiative 71 law allows people in DC to possess up to two ounces of marijuana. The thing is, I-71 does not legalize marijuana sales in Adams Morgan head shop area. 
‌Instead, you are legally allowed to gift marijuana in DC. When you're visiting a weed store for cannabis in 18th St in Adams Morgan DC, you need to buy an item and then receive weed as a free gift. For example, Gifted Curators sells high-quality digital artwork. 
When buying weed in Adams Morgan DC, you can walk into Gifted Curators on 18th Street and purchase a digital print. You'll receive your gift of cannabis at the same moment for free. Want to get the step-by-step details on how the ordering process works? Don't worry — we've got you covered. Just keep reading to learn more.
Buying Weed in Adams Morgan: How to Order Your Cannabis
An Adams Morgan marijuana purchase can be made legally and smoothly, but only if the buyer understands the verbiage that they must use under the I-71 law. You never want to ask to buy marijuana directly, because of course, you don't want to ask for something that's completely illegal. That would be like a child asking to buy an alcoholic drink at a bar. The answer would be "no."
Marijuana dispensaries in Washington DC — Adams Morgan included — definitely have all kinds of cannabis products available for gifts, not for purchase. Let's say you're visiting the cannabis shop. You're looking around at all the edibles, flower, concentrates, and other items. You decide you'd like to get an eighth of an ounce of OG Kush. What do you do?
‌It's simple: You ask the budtender what digital art prints they have available for purchase that would meet the criteria for a gift of OG Kush. You'd like to buy the digital art and receive the free gift under the I-71 law. 
When you use that specific wording, you will be able to protect yourself (and the store as well) from any legal issues that could be associated with recreational use and possession.
For acquiring weed at Adams Morgan head shops, of course, you'll also need to have your government-issued identification that shows you are at least 21 years old. Remember, you can't receive more than one ounce of weed as a gift. Plan accordingly.
Weed Edibles in Adams Morgan
It's not always appropriate to smoke flower. Some people will prefer weed edibles in Adams Morgan. That's no problem, as Gifted Curators has an impressive gift menu for cannabis edibles that can be enjoyed after purchasing a digital art print.
Locals really love Baghead Boys Extreme, which are double the strength and double the size of the regular Baghead Boys. They have a yummy taste of classic gummy flavors with a sugar-coated crunch that also helps keep them from sticking together. 
For the chocolate lovers, you should check out Rocket Chocolates, cannabis-infused chocolate that's vegan and super-tasty. Each bar contains 300 mg of THC, and Gifted Curators stocks all kinds of flavors, including:
M&M's

Reese's

Dark Chocolate

Toffee

Cookies N' Cream

Nestle Crunch ‌
Other Great Things to Do in Adams Morgan while High
OK, so you've got everything you need after a stop at Gifted Curators. Ready to have a blast in Adams Morgan? Here are five things the locals love to do after they've smoked:
Swing into Madam's Organ, a blues bar featuring strong drinks and live music every night of the week. It's a landmark spot to meet up with friends for a fun night out in Adams Morgan.

‌Flip through the racks for the best records at Crooked Beat Records, which is on the same road as

Gifted Curators

. You're sure to find some vinyl to add to your collection.

‌Have a great laugh with the drag queens — that is, if you're in on the joke, honey — at Perry's.

‌Compare animal crackers, which are given along with your latte at Tryst coffeehouse. You can chill on comfy chairs and talk about life with your friends.

‌Go back in time at Mercedes Bien Vintage, with old-school fashions that will be a blast to try on … and add to the wardrobe.
Adams Morgan Weed Final Thoughts
When you head to Adams Morgan head shops, recreational weed is no problem. You can simply go to Gifted Curators, where you can get weed edibles in Adams Morgan DC — or another cannabis product, if you prefer, as a gift. Now that you know the proper way to order and purchase Adams Morgan weed, you can have a blast in this trendy neighborhood.