DC Smoke Shop - Finding the Best Weed Store in DC 2021
DC Weed laws: Initiative 71 Facts & Tips to Know
At 12:01 am on Thursday, February 26, 2015, Washington DC weed laws changed forever. 
Initiative 71 passed by a landslide, allowing people 21 years of age or older to possess small amounts of marijuana under certain circumstances. 
Six years after its passage, however, people are still asking: "Is weed legal in DC?"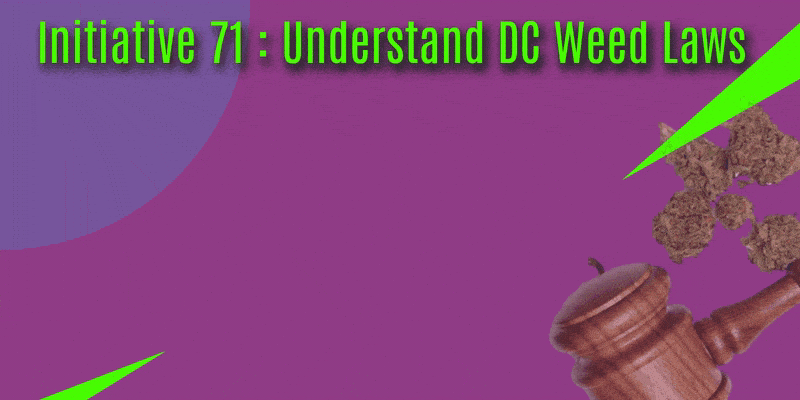 The simple answer is yes. The rules are a lot more nuanced though, so you need to know the ins and outs of DC marijuana law before you can start buying safely. 
Learn more about the legal red tape that comes with Initiative 71 — and everything you need to know about how locals buy high-quality weed in DC.
Is Weed Legal in DC in 2021?
Is weed legal in Washington DC? The answer is yes, but it's not that simple. Under Initiative 71, a person who is at least 21 years of age can possess marijuana. 
But there's a catch. While you can possess two ounces or less of marijuana, I-71 only allows you to only smoke and consume in private residences. 
It's illegal to smoke or consume marijuana in any public place or federal grounds.
DC Marijuana Laws — The Secret Trick For Buying Weed
DC weed laws allow you to possess and consume weed on your own private property, but buying it is another matter entirely.
The law allows for the transfer of weed from person to person — but forbids any kind of payment or exchange of goods and services. 
That means it's legal to have marijuana, but it's not legal to buy or sell anywhere in the District. So how do people get weed if they can't legally buy it? 
That's where the secret trick to buying Washington DC marijuana comes in. Using a loophole in DC marijuana laws, locals can safely buy and sell weed anywhere in the District.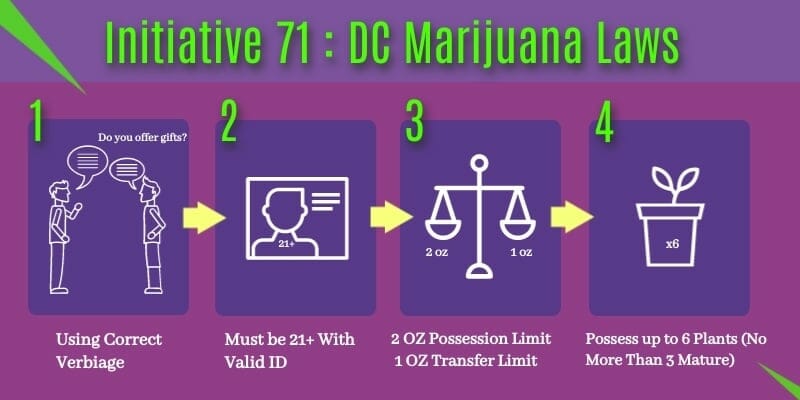 Nobody can sell you marijuana, but anyone over the age of 21 can still give each other up to an ounce. Vendors can offer marijuana as a "gift" alongside the purchase of another good.
This has led to a vast gifting market, where different vendors can sell stickers, posters, t-shirts, and more — while gifting different weed products. 
The key is finding stores that are trustworthy, offer high-quality products, and are I-71 compliant. 
Gifted Curators is one of the few cannabis companies that offers a simple and straightforward buying process. They are also I-71 Compliant! 
No matter what cannabis goodies and "gifts" you select, the prices are always fair and transparent. You can buy a digital art print and receive your choice of a variety of edibles and weed strains.
I71 — Can I Sell and Grow Weed?
If you're growing your own weed, you'll encounter some limitations as well. Under Initiative 71, you can possess up to six plants (with a maximum of three mature plants at any given time). 
In accordance with DC weed laws, you're still prohibited from owning more than two ounces of weed. 
When it comes to selling your own weed, selling or exchanging it directly is not allowed. To make the transaction legal, you'd need to gift someone up to one ounce of weed with nothing in exchange. 
Initiative 71 — The Essential Details
The gifting economy has opened up a whole new market of cannabis products, allowing anyone of age in DC to enjoy all kinds of weed products. However, you still need to follow a few essential rules. 
Anyone caught with weed under the age of 21 can be subject to fine or even jail time. Owning or buying more than two ounces can also land you in trouble. 
Like any other substance, you can't smoke in the car or drive any vehicles while under the influence. 
When you walk through the door of a reputable cannabis shop, like Gifted Curators, the staff will help you through the process. Still, it's important that you use the right terminology. 
In order to safely and legally buy weed in DC, you need to know how to ask for it. Instead of asking to buy weed, you need to first ask for the gift of your choice, like a sticker pack or an art print. Once you buy this item, you'll receive your weed product as a gift.
DC Initiative 71 and The Penalties
Weed might be legal in DC, but that doesn't mean you can't face penalties for breaking the rules.
DC initiative 71 states that if you're caught smoking or consuming weed in public, you might face either a $500 fine or up to 60 days in jail. 
For selling marijuana without using the "gifting" system, you can face 6 months in jail or a $1,000 fine for the first offense. A business or restaurant that allows people to use cannabis could lose their license and certificate of occupancy. 
With the complexities of DC Initiative 71, it's important to be mindful of the different DC weed laws as a buyer or seller.
DC weed laws can make things complicated, but that doesn't mean you can't enjoy cannabis in Washington DC. With the purchase of a gift from a safe and I-71 compliant store, you could be just a few hours from lighting up a joint or enjoying an edible. 
That being said, finding quality Washington DC marijuana shops isn't always easy. The simple truth is that there are a lot of vendors selling weed in DC —  but not many of them are reliable or trustworthy. 
Some of them take advantage of the grey area in DC law to sell "reggies," which is DC slang for low-quality weed. 
As a DC resident, I've come across my fair share of disreputable weed vendors. Thankfully, Gifted Curators is setting the record straight with a transparent, safe, and trustworthy buying experience. 
Ready to see the best cannabis experience that DC has to offer? Take a look at our shop to explore our selection of flower, edibles, and pre-rolls — or come visit us in person to see for yourself.