DC Smoke Shop - Finding the Best Weed Store in DC 2021
Your Guide to Buying Edibles in DC - 2021
The future of buying edibles in DC is extremely bright. In 2021, there are more cannabis store fronts and weed delivery services than ever before.
With so many options, the trickiest part of knowing where to get DC edibles is figuring out which DC edible brands you can trust. If you're not careful, you could fall victim to a scam or even risk your health with some questionable ingredients.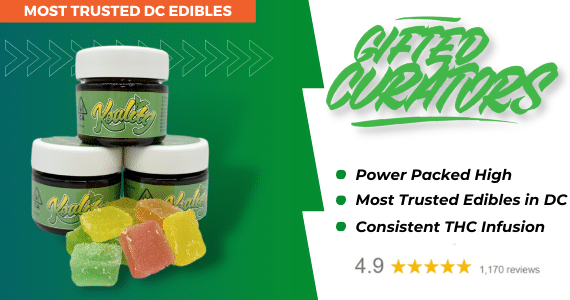 Luckily for you, we have compiled a list of the most trusted and reliable brands providing the highest quality weed edibles in DC.
After reading the next few sections of this article, you will be able to navigate the Washington DC edibles market like a seasoned pro.
Where to Get DC Edibles - 3 of the Safest Brands
When it comes to buying and enjoying THC edibles, even experienced cannabis consumers often have difficulties finding an edible brand they can trust to provide a consistent, quality experience. 
One major problem is that weed brands have trouble creating gummies or brownies that have an accurate dosage, meaning a consistent high within the entire batch of treats is probably not going to happen.  
The following DC edibles brands are verified, lab tested, and veteran approved to give you the best and most consistent sessions. Some of these edibles are extremely strong so we recommend beginners to start with about 2.5-5 mg and slowly work your way up from there. Here is a list of brands that will always satisfy and give you the highest quality, most reliable edibles that DC has to offer:
1. Baghead Boys - Power Packed Washington DC Edibles (400 mg)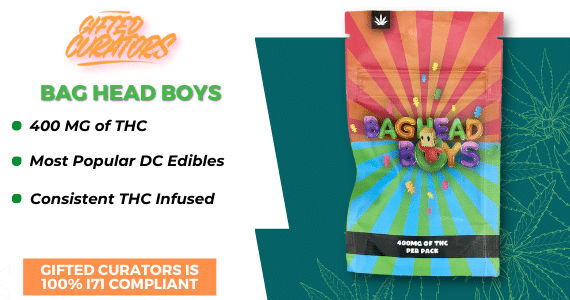 If you are a little more experienced cannabis consumer and you know you have somewhat of a tolerance built, Baghead Boys has some of my all-time favorite products. 
Just thinking about Baghead Boys makes my mouth water. Have you ever had sour patch kids and thought how wonderful it would be if they had THC inside? Baghead boys made our dreams come true and made that happen.
In a bag of Baghead Boys, you are going to get 4 gummies that each have 100mg of THC. If you are ready for a strong high, go for one gummy and you'll be surprised by how quick they hit. 
If you want to be a little more careful about your THC consumption, you can cut up your gummies into pieces to start with a smaller dosage. 
The high is so long-lasting and the flavor of weed is so excellently disguised in these gummies. I have a hard time not just eating the whole bag like candy, then I know it's going to be a fun day.
2. Chronic Confections - Super Strong DC Edibles (500 mg)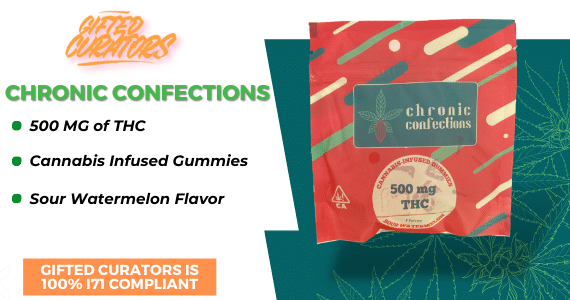 If you're looking for some gummy edibles in DC that are even more potent, Chronic Confections has some products you have to get your hands on. 
Each bag of Chronic Confections will have 500mg of THC in the whole bag.
Coming in two flavors, you have to try the Sour Apple or, my favorite, the Chronic Confections Sour Watermelon.
Even if you have your tolerance built up, gradually eat a whole bag through the day, you won't need to smoke.
The flavors of the Chronic Confections are divine, as will be your afternoon mood after enjoying even half the bag.
3. Koality Gummies - Best Edibles in Washington DC (108 mg)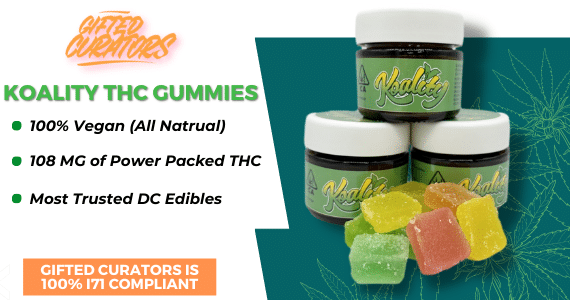 Koality Medicinals has the perfect product for starting with a lower dosage of THC with their Koality Gummies. These lab tested, delicious gummies are small and candy-like with a lower dosage, so they are perfect for easing your way into the desired high. 
Each gummy will contain about 10mg of THC. Eat one gummy, wait an hour or so, see how you feel. That might be enough right there for a new user. Continue eating more if you know that you want a stronger effect.
What are the Strongest Weed Edibles in DC?
Still, some heavy cannabis users will be out here in DC on the hunt for the most powerfully potent edibles their money can buy. 
Are you one of those proud stoners that has tried it all and you know you need the strongest of the strong when it comes to weed treats? 
Have you built up the tolerance of a weed king but you want to eat an edible that humbles you right back down to Mother Earth? 
We have done the testing and have the results. These are the Edibles in DC that are guaranteed to kick your butt:
Baghead Boys Extreme - Strongest of All (800 mg)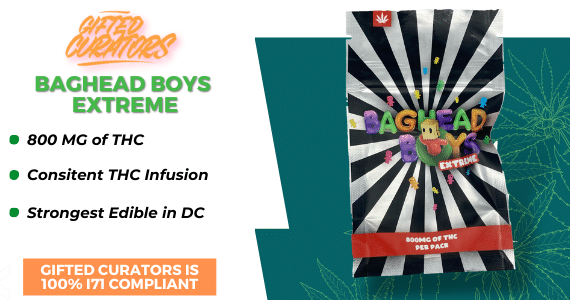 Baghead Boys have created some bad boy weed gummies that are even stronger than their originals. Baghead Boys Extreme are twice the size and twice the strength of the classic pack. 
Each bag of Baghead Boys Extreme will have 4 gummies that contain 200mg of THC in each gummy. 
Proceed with caution because these are for the most experienced with the highest tolerance!
What Edible Dosage is Right for Me?
Not everyone is looking to get floored by their Weed Gummies. Many users know that their tolerance does not require the strongest edibles in DC. If you are a beginner, don't be worried or afraid, here are just a few notes to remember.
Edibles take quite a bit more time for the high to kick in in comparison to smoking weed.
While the effects of smoking can be immediate because most of the cannabinoids are going to your head, with edibles, the cannabinoids take much longer to take effect because they are traveling through your body. 
It can sometimes take up to 2 hours for an edible to kick in, while most take from 45 minutes to an hour. 
If you are a beginner, or you don't know your tolerance level for THC, starting with low dosage is highly recommended.
Getting an inconsistent edible brand could mean that you consume too much THC for your tolerance level. This can cause an unpleasant experience with effects such as nausea and anxiety. 
Start low, then make sure to wait at least an hour to see how you feel. Once you have an idea of your body's tolerance, feel free to enjoy a little more and find your desired high.
Finding a brand of edibles you can trust is not always easy, but we've done the legwork to save you time and money, saving you from a bad experience in Washington DC. 
With one of the products listed by Gifted Curators, you can feel safe knowing that you are getting a consistent and high quality product every time you purchase. 
If you want to manage your experience in lower doses, go with Koality Gummies by Koality Medicinals.
If you have a bit of a tolerance built, you have to try the gummy edibles by Chronic Confessions. 
If you want to get the most potent edibles your money can buy, get Baghead Boys Extreme. 
These are the brands of edibles in DC that we have tested so you know you can trust. 
Buy some gummies or weed chocolate from our curated list. You will have confidence that you're getting an accurate dosage so that you can be in control of your edible consumption and have the best experience possible when consuming edibles in DC.