DC Smoke Shop - Finding the Best Weed Store in DC 2021
How to Buy Weed in DC with No Medical Card 2021
Thanks to Initiative 71, it is now legal for people over 21 to recreationally buy weed in DC.  
Buying weed in Washington DC is pretty straightforward, but it is also easy to break the rules and possibly find yourself in some trouble.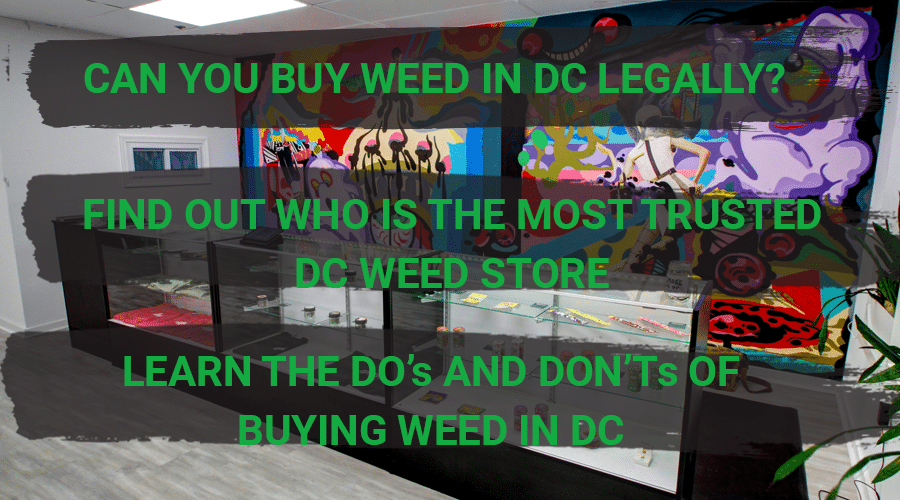 After reading this article, you will have all the info and confidence to successfully navigate the confusing pot laws and execute a cannabis gift exchange.
Plus I'll show you the most trusted DC weed store front where you can purchase cannabis without a DC medical marijuana card.
Keep reading to learn more.
Basics of Buying Weed in DC
In DC, buying weed is actually pretty simple these days. But understanding a few concepts is crucial to navigating the weed market legally. 
If you are new to I-71, keep these few tips in mind, and you will have no trouble buying weed in DC.
Do I need a DC Medical Marijuana Card?
No, in 2021, you can now purchase marijuana in Washington DC whether you are a resident or a tourist passing through the city.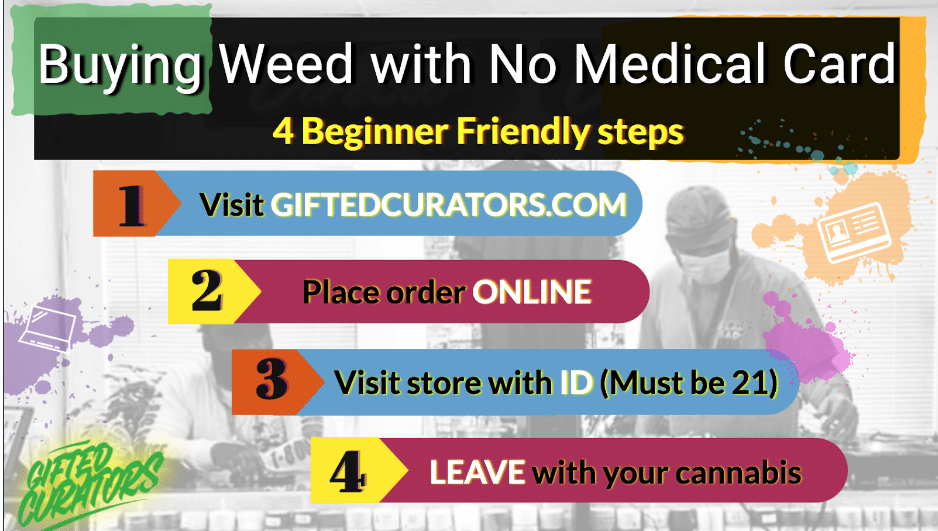 If you are looking for premium award winning strains in Washington DC, make sure to check out Gifted Curators. 
With over 1,337 raving reviews on Google (the highest for any DC cannabis store) you can simply place your order online and pick up your cannabis the same day with no medical card needed.
But before you decide to buy cannabis in DC, it's good to get a firm grasp on how to purchase marijuana in our nation's capital.
I71 is the law that created the DC recreational weed community and understanding this law is extremely important in protecting yourself when buying marijuana in DC.
Initiative 71 - What is Gifting Weed in Washington DC?
Selling and buying weed, technically, are not legal in DC. But there is a loophole that allows for transactions to be done in another way.  
The I71 law clearly states you cannot purchase marijuana but instead you can gift.
The act of gifting weed with I-71 is the answer to the weed laws in Washington DC.
Initiative-71 allows a person to purchase an item and receive the option of receiving a gift of cannabis in exchange. 
With the gifting program, you are not buying the weed. You are purchasing a t-shirt, a piece of artwork, or some other merchandise. 
With the purchase of some sort of merchandise from the weed shop in DC, you will have the option of taking home a weed gift!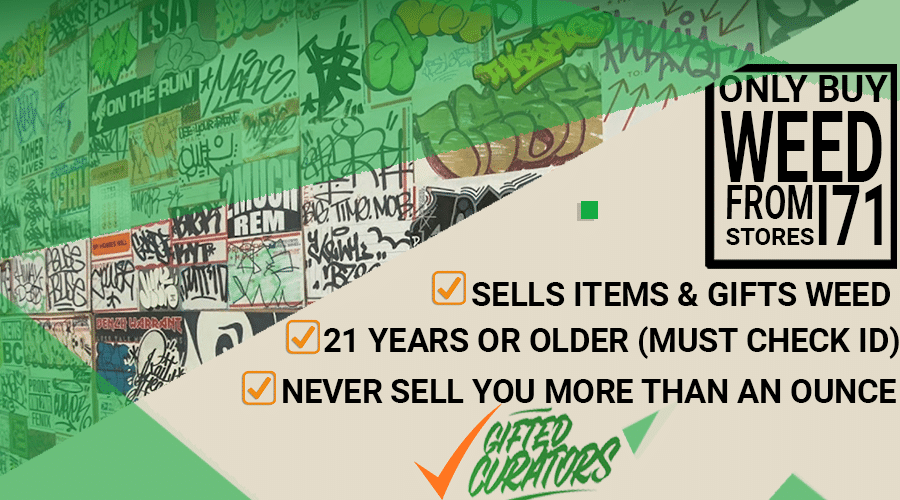 Pro-Tip: Make sure the smoke shop you purchase from in DC is 100% I71 compliant. Gifted Curators goes above and beyond to protect you legally. If you visit a weed store in DC that is not I-71 compliant, you risk legal repercussions.
Choose a store I-71 compliant storefront or weed delivery service that you can depend on. 
Getting cash out of the ATM at your bank beforehand is a good idea, but some dispensaries, like GC, will have an ATM inside.
Don't forget your ID as it is the only thing you will need for weed besides money.
How to Buy Weed in DC - 3 Common Ways
You know that it is not difficult to buy weed in DC and that not much is required besides identification. Now, you will want to choose the best way to get your product.
Here are the 3 common ways to get weed in Washington DC:
1. Washington DC Cannabis Store
Buying weed from a Cannabis storefront is the best way as it is the safest and has the highest quality of weed you can buy in DC. 
At my favorite store, Gifted Curators, you are purchasing digital art and, in exchange, receiving a super high-quality cannabis gift of your choice. 
Their menu is listed online on the website at GiftedCurators.com. You can order ahead for pickup or go check out their selection in person.  
Make a digital art purchase of $50-$90 to receive an eighth of the finest weed you can buy in DC. 
The recreational Washington DC cannabis store is the most convenient and reliable way to get your weed these days.
Another option that is not as reliable and is more expensive is getting DC weed delivery. 
Weed Delivery will take at least 1-2 hours to reach you, sometimes much longer. Be prepared to wait and hope that the quality is worth it. 
A common problem with weed delivery is inconsistent weed products with little to no options to get a refund.  
With weed delivery, you will be paying a little more for fees and to tip your driver. In my experience purchasing cannabis in DC, I suggest you stick to picking up weed in the store.
3. DC Pop Up for Weed buying
DC Pop-ups that sell cannabis and related products are also an option, but these are not recommended.
Many brands and clubs will throw parties or pop-ups to invite you as a potential customer. 
These pop-ups sound fun but are often raided, shut down, and attending could lead to legal repercussions.
Buying Pot in DC - Do's and Don'ts
There are a few things you must keep in mind when buying pot in DC:
      1. Never ask to buy weed directly when at a DC weed shop. 
      2. The weed is not what you are purchasing. Always ask to buy the item that corresponds with the gift you want. 
      3. Possessing more than 2 ounces of weed at any time is illegal. 
Wait until you get home or to a private spot to smoke your gift. It is illegal to smoke in public in DC.
DC MMJ Worth it? - Buy Marijuana DC Legally
Getting a medical card in DC sounds appealing. You may think a medical weed card could provide extra benefits. But the quality is not worth the time.
To get a medical marijuana card, you will have to find a doctor in DC specializing in prescribing weed. Your average doctor might try to steer you away from the green stuff. 
Once you find your MMJ doctor, hopefully, they will approve you then give you a patient ID.
You will go online and use your patient ID to register and log in to the DC department of health website. (DOH) 
After registering for a MMJ card with the DOH, you will still have to wait for your card to arrive in the mail. 
Even with a medical card, recreational shops are getting much higher quality weed these days, and the legal marijuana dispensary providers cannot compete. 
Finding the right place to buy weed in DC is easy in 2021 but understanding the laws can be tricky. 
You don't have to take the time to meet with a doctor and get a medical marijuana card. The quality of weed is not even as good at a medical weed store.
Just take a little bit of time to go over our collection of weed strains at GiftedCuratorsdc.com. 
You won't have to waste time waiting on a driver or wondering whether it is going to be worth the wait. Recreational shop marijuana strains are often higher quality than any of the weed medical dispensaries are able to get.