2021 - Guide to Getting the Highest Quality DC Weed Strain
2021 - Guide to Getting the Highest Quality DC Weed Strain
Over the East Coast, the hype for high end DC bud has skyrocketed as the recreational cannabis scene takes over the Washington DC. 
Bud is plentiful in the nation's capital, so finding the highest quality DC weed strain has become effortless. Skip the bad reggie strain that is so common in DC and in this article we will show you the top DC weed strains that even drop West Coast jaws.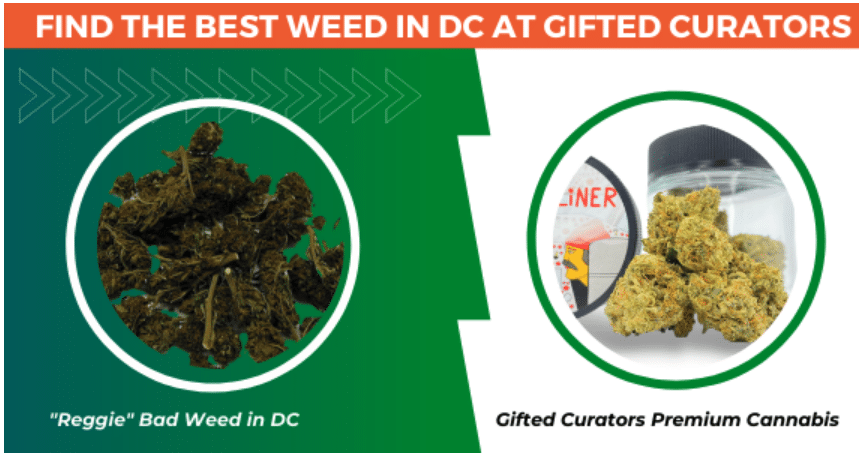 With DC weed laws becoming more relaxed, so many dispensaries are popping up. Some come with not-so-high quality, but others bring out the heat with what seems like a new DC weed strain everyday.
Stick to this list, and you will always have the highest quality kush DC has to offer. Continue reading this article to learn about the absolute best DC weed strains available. 
Best DC Kush Shop with Over a Thousand 5 Star Reviews
As the DC weed laws have allowed for more recreational dispensaries and weed delivery services to open, the quality of DC kush has improved dramatically. 
The days of needing a medical card to get the best kush in DC are over. Now, recreational DC dispensaries have the best DC strains. 
Of course, you will want a dispensary you can depend on to provide you with genuine, high quality DC kush. 
The DC cannabis storefront that always comes through with the highest quality strains every single time is Gifted Curators DC.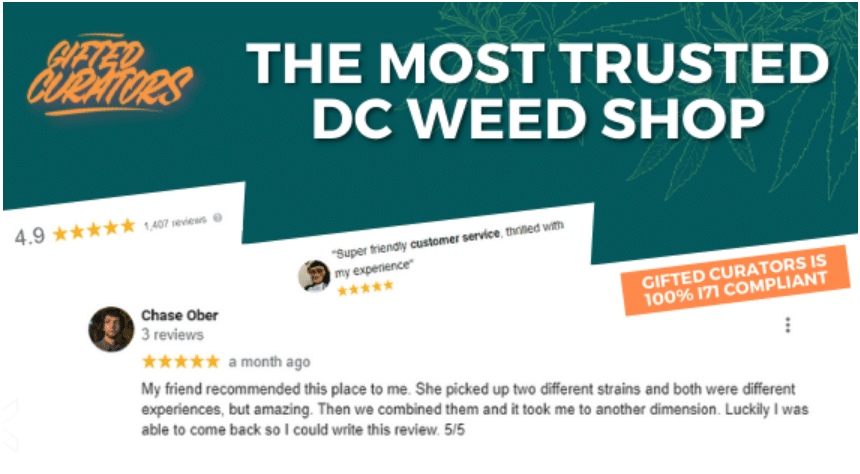 Gifted Curators will never disappoint when it comes to quality or service when providing you the best kush DC has to offer. 
Visit the Gifted Curator DC website to check out their selection of the finest strains in DC, or go ahead and visit them at their store on 18th street.
Here's a peek at the highest-rated, most potent strains that Gifted Curators has to offer.
Gifted Curator Premium Flower - DC OG Strain of Kush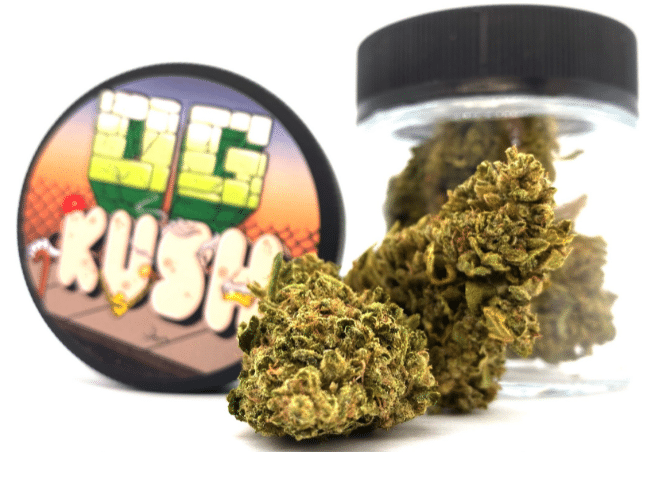 Gifted Curator only provides premium flower, so the starting point will be high-quality. The weed strain they're known best for is an American classic at an affordable price, OG Kush.
Now quickly becoming a DC kush classic, this DC OG strain is a hybrid known for its uplifting but body melting effects. With an extremely euphoric high, this iconic strain is perfected by Gifted Curators.
OG Kush is a world-famous strain that leans only slightly towards being Indica dominant. (about 55% Indica, 45% Sativa) If you want calming effects and a strong body high, this is the DC OG strain for you. 
At a lab-tested 18% THC, this DC OG strain of Kush will be well worth the gift price of $55 for an eighth.
Gifted Curator Most Powerful Weed Strain - Cheesecake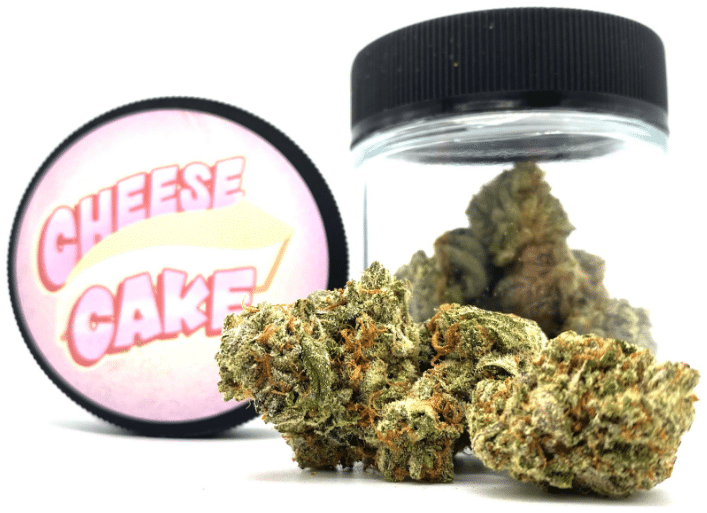 If you are an avid toker with a high tolerance, you're going to want the best of the best most powerful weed strain with the highest THC bud potency. 
The top shelf selection of DC strains at Gifted Curator is what you need to reach for.
Right now, the best top-shelf strain DC has to offer is the Cheesecake at Gifted Curator. 
Cheesecake is an Indica Dominant Hybrid known for its high levels of THC and cheesy aroma. 
At a lab-tested 24% THC, the Cheesecake they have will pack a powerful face melting punch. Buy this premium strain at the gift price of $90 for an eighth. 
Previously in the DC kush market, the only way to get weed this good was through medical dispensaries. But get it while supplies last at Gifted Curator! 
Common Types of High End DC Weed Strains
The DC kush market is impressive these days. The DC weed laws may be a little more confusing, but visitors from California or Colorado will be pleased by the quality of bud they find. 
With the DC kush laws allowing more local cannabis connoisseurs to get in on the trade, smaller grows have built very high expectations of quality for the DC smoking community.
A few years ago, it was recreational weed that had low quality because the sources were bigger, illegal grow operations.
Now, it's the other way around. The weed you will find from medical stores is a little more commercialized than recreational DC kush. 
If you visit a smoke shop or order from a delivery service, these are some of the flower strains that you will come across in the DC Cannabis market:
OG Kush is just one of the wonderful strains in the Kush family. You are likely going to come across many other Kush DC variants in the DC flower community. 
DC Kush is known to be one of the most powerful and flavorful strains on the market. You can always expect Kush to test high for potency. 
With a world famous weed strain like Kush, DC marijuana growers have had no trouble perfecting the delicate growing process of this specific plant species. 
With the current DC dispensary prices, you will be looking at around $50-$90 for an eighth of high-quality cannabis. Keep your eyes peeled for new strains hitting the market more and more.
DC Cookies Marijuana Strain
Cookies strains get their name from the sweet cookie-like flavor and smell that the nugs produce. 
With delicious tasting smoke, it is no mystery why cookies weed strains are so successful within the DC cannabis market and the rest of the US.  
Don't get the sweetness confused for lack of strength. Cookies strains almost always deliver a powerful head high. 
Platinum Girl Scout Cookies is one strain that has hit the town and made some noise.
Similar to the sweetness of OG Kush, Washington DC is also known for it's Gelato strains. 
Gelato often expresses faint hues of orange and grape and the classic sought-after skunk smell. 
DC Gelato strains such as Gelato Cake are perfect Indicas for the end of the night toke session to uplift your evening and rest easy. 
Keep a lookout for this award-winning marijuana strain when looking at a DC weed menu.
DC Weed Strain - Checklist
You will find some beautiful kush in DC without having to get a medical card or go through a sketchy drug dealer.
Get the highest quality kush DC has to offer through a recreational store without caring what's on the medical side of the weed market. Recreational stores have the best sources!
Typical high-quality DC strains to look out for are DC Gelato, DC Kush, and DC Cookies. Get your hands on some of these nugs today from Gifted Curators. 
Lock their info in your brain and phone as they will be curating even more DC kush selections for you to enjoy.